Top 5 things to do in Kathmandu
I headed to Nepal on a five day vacation from my job in southern India. I had been working there for nine months and needed a little change of scenery. I couldn't take a lot of time off from my job and a lot of time was spent in airports but Kathmandu was worth it! Coincidently, my best friend had been working in Kathmandu for about the same time I'd been in India and I couldn't wait to see her. Paige already knew what the best things to do in the city were so thankfully I didn't have to do any planning.
These are my top five favourite experiences from the time I spent in Kathmandu.
1) Be humbled at the Pashupatinath Temple

Pashupatinath is a sacred Hindu temple and UNESCO heritage site located along the banks of the Bagmati River. Take a walk around the buildings and check out the views from the hill top while keeping your bag safe from curious monkeys. The overall experience is humbling as the cremations take place regularly alongside the river.
I felt uncomfortable watching at first because I felt like I was intruding. It was captivating, humbling, and thought provoking witnessing the entirety of it all though. Death is viewed so differently all over the world and it was special being able to witness how it is viewed in Nepal.
2) Take a Momo making class at Momo Hut

Food is my favourite thing so signing up to learn how to make momos while also being able to eat them was a no-brainer. We made chicken, vegetable, ostrich, and Snickers momos. The chef/instructor was super patient with our inability to fold the pastry correctly and made sure we wrote the instructions down properly so making them at home would be a pinch. (It was!)
3) Barter with the vendors in the markets

I don't love shopping but I loooove to barter. It can be a bit tricky at first, especially if you're not really sure the real value of the goods but that's where talking with other travellers comes in. I bought all my Christmas gifts for friends and family in the Thamel markets. Tapestries (which can double as bed covers, tablecloths, wall hangings, etc.), wool sweaters and hats, yak wool blankets and scarves, tea, soaps, prayer flags, jewellery, and paper lanterns.
It's important to be polite and make it fun. Joke and laugh along with the vendors. Set a price in your head that you're ok paying and start lower than that. The key is to come to a compromise and that can't happen if you never move your price up while they move theirs down.
4) Unwind with friends and good food on a rooftop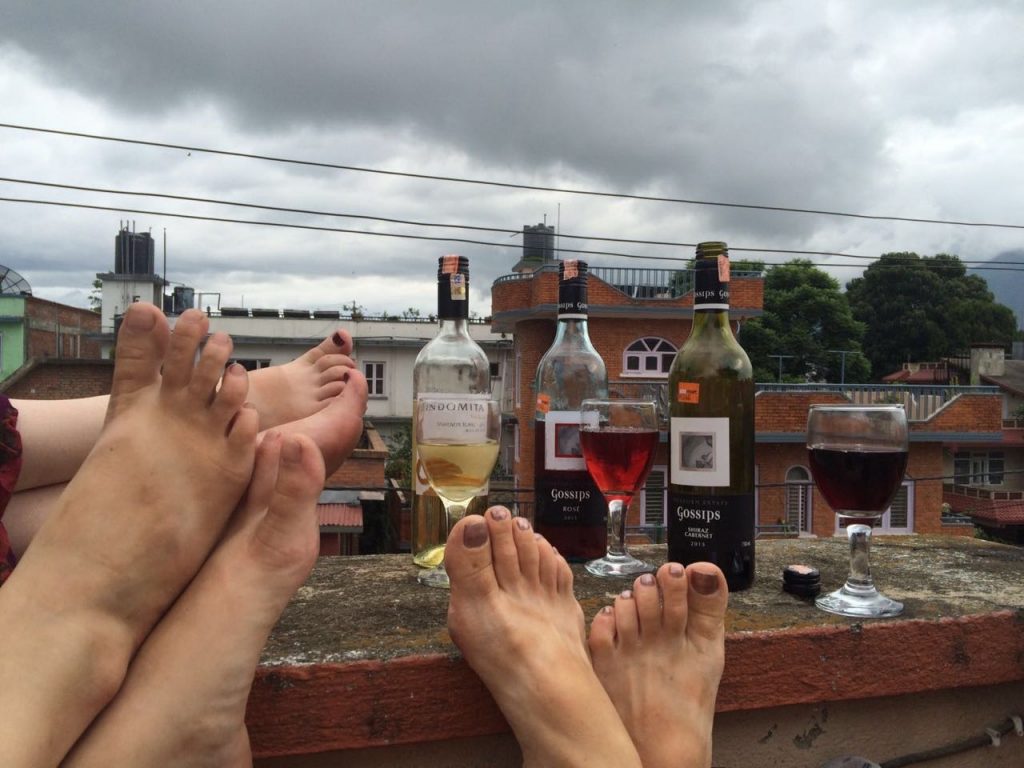 Grab a book and a glass of wine or unwind with some friends on a rooftop. Useable rooftops are very common in Kathmandu and a great place to hangout anytime except maybe monsoon. Depending on the season, you can even get killer views of the Himalayas from the heart of the city!
5) Go to a club. Have fun, be safe, dance your heart out. Let loose. 
I know this is something that can be done pretty much anywhere in the world but it was something that stands out to me as my time in India was spent in a small town working 60 hour weeks and not really having a chance to relax. The clubs in Thamel are full of people from all over the world who are having a few beverages and ready to swap stories and dance! I was with people I trusted and was able to have a couple drinks and dance it out without being judged or feeling unsafe.